Hanukkah
Join us at Temple Israel as we light up the dark nights on the Festival of Lights. Hanukkah features parties and gatherings for various ages and cohorts as we celebrate our miracles and bring light to the world.
HANUKKAH 2021:
Please join us for celebrations throughout the eight days and nights of Hanukkah. Find out more about each event by clicking on the images below, by checking this week's email from Temple Israel, by reading the November issue of the Voice, and also on the Upcoming Events page of this website.
All events that indicate that they will be available via Zoom will also be available on YouTube and Facebook.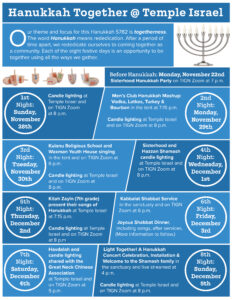 Click on the images below to learn more and to register for these events:
To learn more about the holiday of Hanukkah, click here.