Educational Directors
Connie Reichman
Director of Kulanu Religious School and Teen Education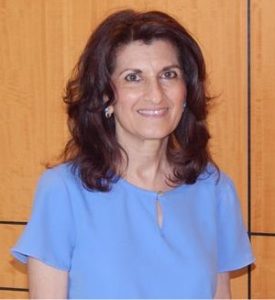 Connie Reichman has been part of the Temple Israel community for more than 15 years and has taught at all three congregational schools. She holds an M.A. in Social and Organizational Psychology from Teachers College, Columbia University. Connie began her career in the Management Development Department at NASA headquarters in D.C. where she coordinated management training programs, conducted survey research and provided survey feedback to senior management.
She and her husband made aliyah to Jerusalem in 1987 where Connie led a team of organizational psychologists at the Israel Police headquarters. Upon returning to New York in 1993, Connie entered the field of childhood education at Shelter Rock Jewish Center. In 2006 Connie joined the Temple Israel family as a pre-K teacher in Beth Hagan as well as a seventh-grade teacher in the religious school. She has also been a part of the Youth House team as a Jewish values and Holocaust education teacher.
The last 5 years Connie was a pre-K and kindergarten Judaic studies teacher and Holiday Programming Coordinator at North Shore Hebrew Academy. Over the years she has taught and developed curriculum for multiple grades.
When asked about her approach to Jewish education Connie says: "I see myself as an educator whose mission is to prepare children to be active members and future leaders of the Jewish community. My aim is to instill in them a love of Judaism and a dedication to Israel. My hope is that my students seek out and feel comfortable in any Jewish community in the future, no matter where they land.
Rachel Mathless
Director, Beth HaGan

Rachel Mathless has served as director of Temple Israel Beth HaGan nursery school for the past 13 years. She holds an MS in Early Childhood Education from the Ferkauf Graduate School of Yeshiva University and a second master's degree in Educational Leadership from South Connecticut University School of Education.
Rachel began her career as a preschool teacher at Southern Connecticut Hebrew Academy. At the same time, she taught severely developmentally delayed children at a group home in Yalesville, Connecticut. Her charge was to imbue the children with the joy of Judaism and to this end developed a modified curriculum through music and art which dealt with the rituals and practices of Shabbat and holidays. She then served as the chair of the Curriculum Committee of Torah Academy in Cleveland, OH. There she worked to establish an integrated secular and Judaic studies curriculum and mentored the preschool staff in best practices and innovative techniques in emergent curriculum and differentiated learning.
Rachel then returned to Connecticut as director of Early Childhood Education at Southern Connecticut Hebrew Academy where she served for 10 years, implementing a new curriculum based on the cutting edge research regarding brain development in the early years and how children learn. She served on the executive board of the Board of Jewish Education (BJE) in Connecticut and also as an executive member of BJE and JECA in New York.
"Early Childhood is my passion. Seeing and experiencing the world anew through the eyes of a two or three year old child every day is positively exhilarating. Watching the children develop emotionally, socially, intellectually and Judaically generates a daily personal as well as professional satisfaction. Realizing the importance of the foundation we set in place for the future generation is an awesome and thrilling responsibility. In addition, working with bright, talented staff members who love and nurture the children at Beth HaGan brings me great inspiration and excitement."