Administrative Staff
Jamey Kohn, Executive Director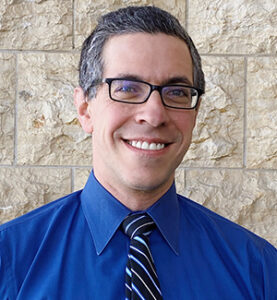 Jamey Kohn began his new position as Executive Director of Temple Israel in July 2019. He previously served as the executive director of Merrick Jewish Centre since 2010. Prior to becoming a synagogue director, Jamey worked for 12 years for Development Consultants, Inc., a fundraising consulting firm, assisting synagogues, JCCs and day schools with their capital and endowment campaign efforts. He is currently a vice president of Hillcrest Jewish Center, a Queens Conservative synagogue. He has served as a chair of Hillcrest's Kol Nidre appeal, the Membership Committee and assists with Youth and Family programming. Jamey has also served as PTA president of his children's school, the Solomon Schechter School of Queens. He met his wife Raina at the University at Albany, where he majored in Business Administration and Japanese Studies. Raina is a registered nurse at North Shore University Hospital and together they have a son and a daughter. When Jamey is not in the office, volunteering at Hillcrest or cooking dinner for his family, he can often be found running a marathon, reading a book, or watching a Netflix.
Who's Who in the TIGN Office?
Marie Contento has been with Beth HaGan for 20 years. She is the assistant to Rachel Mathless, Director of Beth HaGan. Marie is the first person you will speak or meet with when inquiring about our nursery school. She tours the school with prospective parents, describes the very unique and Judaic program offered, and readily answers all their questions and helps to ease concerns regarding their children. Marie works very closely with Rachel in handling all aspects of Beth HaGan from setting up classes, organizing special event programs, scheduling enrichment classes, and working with the staff and their necessary requirements. Her office is always busy with parents, teachers and children to which she plays the role of doctor, mother, psychiatrist, mentor, and facilitator with humor, kindness, warmth and love.
Jodi Engel, Rabbi Schweber's assistant/Administrative Assistant has worked at Temple Israel for 15 years. Her responsibilities include running the congregation's mailroom and processing donations made to various funds and responding to each with a thank you letter. She is also the accounts receivable clerk, handling all incoming payments to Temple Israel. She coordinates shiva arrangements, notifying the Pastoral Committee and Yad B' Yad and alerting members who conduct the minyan at shiva homes. Jodi very much enjoys her diverse position at Temple Israel.
Karel Tanenbaum is the administrative assistant to Connie Reichman, Director of Kulanu Religious School and Teen Education. Her focus is on all matters related to the Religious School and family programming. Karel came to us from the Sid Jacobson JCC in Roslyn. Prior to that, she spent many years in the customer service field. Karel resides in Queens with her husband and son. She enjoys working with Temple Israel families, faculty and children of the religious school, and being a part of the TIGN extended family.
Angela Jones, the office staff's senior member, has held almost every position during her 18 years as an employee of Temple Israel. She currently oversees most communications with the congregation. Among her many responsibilities, she is the office liaison to The Voice, seeing to it that regularly appearing feature and informational stories are presented. Angela also prepares the Shabbat service leaflet, pulpit announcements made by the president during Shabbat services, and yahrzeit announcements made by the Rabbi during the service. In addition, she maintains the synagogue website, sends e-mails to the membership, manages the TIGN social media accounts and prepares the colorful posters and flyers for publicity. During the High Holy Days she prepares the In Memoriam book and sends out membership honors announcements. Angela likes working at Temple Israel because of the family environment.
Carlos Bernal, Temple Israel's Controller, comes to us with over 20 years of accounting and bookkeeping experience, including experience with non-profits. Reach out to Carlos if you have any questions about your statements, establishing payment plans, and anything else regarding your account. Carlos Bernal can be reached 516-482-7800 x1107.
Kathy Recckia joined the Temple Israel office in April of 2002. Since then she has held a series of increasingly responsible positions and currently serves as administrative assistant to Rabbi Stecker and Hazzan Shamash and as the secretary for the Waxman High School and Youth House. Kathy is heavily involved in special annual projects, such as ticket sales for Temple Israel Players, printing of tickets and working with clergy for the High Holy Day services, the Journal Dinner Dance, Golf Outing, Lulav and Etrog sales for Sukkot, and Chametz sales for Passover. In addition, she also helps to coordinate the scheduling of B'nai Mitzvah and synagogue member Auf Rufs and baby namings. She likes her job and enjoys the spiritual atmosphere of a shul.
Maintenance Staff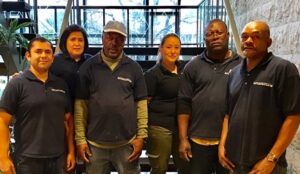 Temple Israel's Maintenance Team, co-led by Patricia Montenegro and Lesther Sierra, is a dedicated team of individuals who do a wonderful job at keeping our facilities comfortable, safe, clean, and running smoothly.
From left to right:
Lesther Sierra, Patricia Montenegro, Gladstone James, Diana Montenegro, Dalton James, Basil Blackellar.