Support Israel
UPCOMING EVENTS/FUNDRAISERS: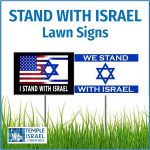 STAND WITH ISRAEL LAWN SIGNS
CLICK HERE TO PURCHASE YOUR SIGN TODAY
Temple Israel of Great Neck will be offering a choice of two lawn signs showing support to Israel. All proceeds will benefit the Temple Israel Solidarity Fund.
$36 per sign (includes stake)
ONGOING FUNDRAISER: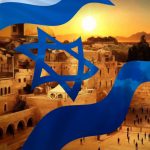 Please consider giving generously to Temple Israel's Israel Solidarity Fund.
MAKE A DONATION
Our leadership has identified five organizations who are responding directly to this crisis that we will be supporting at the present time. They are:
Friends of the IDF collects charitable donations to directly address the needs of the soldiers of the Israel Defense Forces, ensuring their well-being.
The Barzilai Medical Center is the frontline hospital of the devastated war zone near Gaza, treating hundreds of civilian victims and IDF soldiers amidst direct missile attacks on the hospital.
OneFamily's goal is to support and empower victims of terror and bereaved families so that they can achieve their emotional and financial independence and successfully reintegrate into society.
Magen David Adom is Israel's non-governmental emergency medical system which oversees ambulances, paramedic certification, medevac operations, and national medical emergency dispatch, enhancing emergency responses with life-saving equipment, blood services support, and EMT safety.
Congregation Netzach Israel is our sister congregation in Ashkelon, once again protecting their community on the front line of a major crisis.